The Justice Blog
Browse our blog to learn about your rights.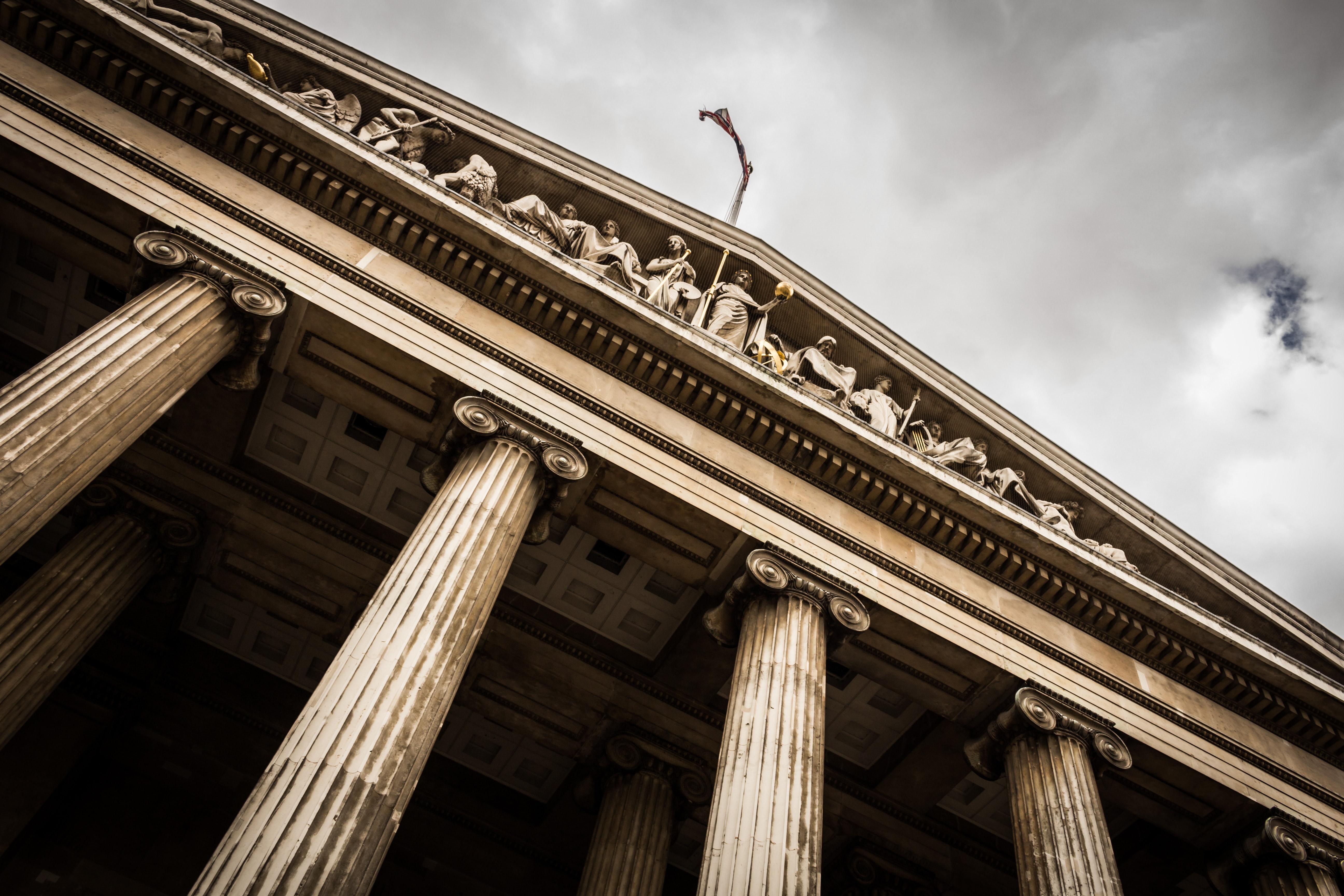 Access to Justice is in a massive crisis today. If it weren't already obvious, the looming barrister walkout on 5 September in England and Wales would have hammered the point home by now. But the current crisis really starts with the people who justice was made to protect – who feel less protected than ever.
Ordinary people are afraid of the law
Most people don't think the justice system is easy to use. This perception of high barriers, complex processes and spiralling costs puts people off from using legal services, even if the perception does not always correspond to reality.
In a landmark study produced by the law firm Hodge Jones & Allen in 2015, over 1,000 people were interviewed in a representative survey which concluded that:
63% of respondents thought that legal advice is not an affordable option for ordinary people

Only 24% of respondents thought the justice system was fair and transparent

81% of respondents thought the justice system was intimidating
The justice system's bad reputation harms the use of accessible services
These figures illustrate that overall, perceptions of the justice system are poor and expectations are low. As a result, people who may benefit from using the system, don't, as they expect that the available services won't be able to meet their expectations.
This deep-rooted perception, even though accurate with respect to many services offered by the justice system, creates a general hesitation amongst the public to use the justice system – even when the specific service that could solve their problem may be relatively affordable and comparatively easy to use.
Looking for legal advice online? Few seem to find what they're looking for
This general perception of the justice system combined with the lack of availability of services for many types of problems leads to a dramatic "drop-off" effect between the amount of people searching for legal advice and the amount of people who actually receive a service.
The number of people searching for legal advice online is massive.
Citizens Advice Bureau, an organisation hosting a range of content on its website to help people understand their rights in the UK, logs 40 million website visits a year. Google Trends data for multiple topics shows that in the UK, searches for legal advice and related topics is often on par with or even higher than searches for financial advice or related services.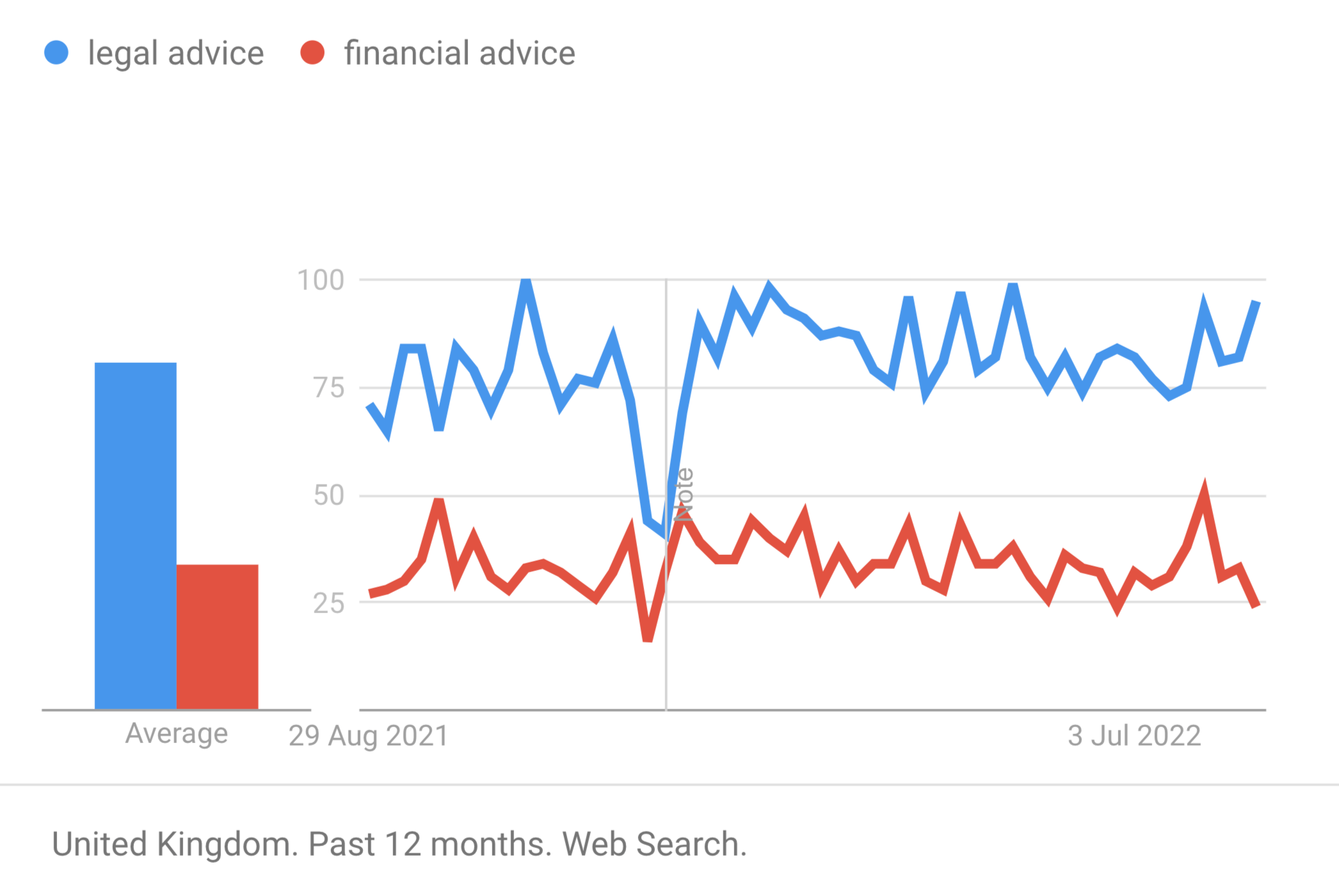 You would imagine that this huge appetite for legal advice translates to a huge amount of legal services being consumed. While in some areas, the number of claims being issued is significant, as for example in country court claims, where roughly 1.6 million claims are issued every year. In other areas, the numbers dwindle. The Employment Tribunal only logged roughly 117,000 cases in the 2020/2021 period, equalling to a reduction in the total number of claims in the past 10 years by 45.93%.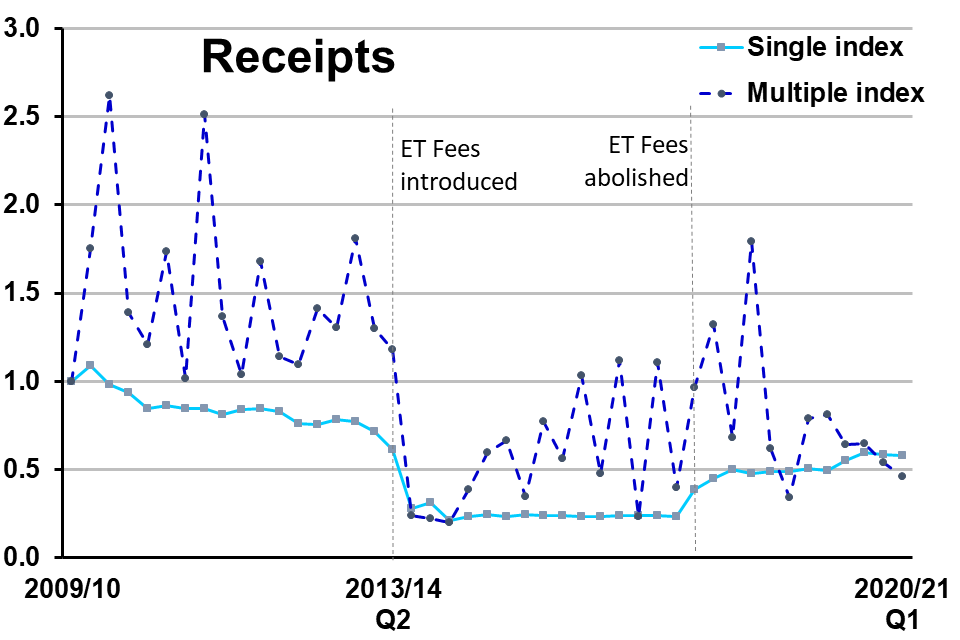 Bad experience with lawyers and legal services
For those that, despite poor perceptions, do use services of the justice system, the experiences they have are often poor. Reviewing TrustPilot scores of some of the services and schemes set up by the government to improve accessibility, a worrying trend quickly becomes clear: people do not trust these service providers and the experiences they have when using their services are usually bad.
"I'd been better off with some lads and a sledgehammer"
For example, the Money Claim Online Service launched by HM Courts & Tribunals as a "convenient and secure way of making or responding to a money claim on the internet", has a TrusPilot score of 1.4, which corresponds to the rating "bad". One reviewer went so far as to note that "I genuinely feel I'd been better off just going round with some lads and a sledgehammer to get what I'm rightly owed." This review demonstrates just how disappointed people are with the services provided to them by the government and the dangerous consequences a justice system that doesn't work for everyone can produce.
Similarly, Acas, which offers mandatory mediation and conciliation before allowing people claiming against their employers to proceed to the Employment Tribunal, has a TrustPilot score of 2.0. Reviewers commonly complain about bureaucracy, lack of empathy and even that the staff are biased against claimants. The Employment Tribunal itself also has a TrustPilot score of 1.9, with reviewers complaining about biased judges and incompetent staff.
Finally, even many of the Ombudsmen, set up by the government to offer a faster and more user-friendly way to get justice in smaller cases, suffer from low reputation. The Financial Ombudsman Service has a TrustPilot rating of 1.4, the Housing Ombudsman has a rating of 1.5 and the OIA for Higher Adjudication has a rating of 1.6. The list goes on and on.
The government is disappointing citizens
These experiences show that many of the services set up by the government to offer speedy, user-friendly justice, end up alienating and disappointing citizens. Such real-world outcomes will only put off potential claimants with valid claims further.
Time for change for the sake of democracy and equality
Access to justice needs to change. Poor perceptions, combined with low uptake of solutions and disappointing real-world outcomes paint a gloomy picture of our justice system.
Being able to understand and take action on our rights is one of the basic principles of democracy and equality before the law.
Unless we bring about a fairer justice system fast, we risk permanently damaging the relationship between citizens and the rule of law.