As the CEO & Founder of a company that is outrightly competing with none other than Google in providing answers to legal questions and help with understanding the law, I often get asked which shortcomings the almighty Google has and how a comparatively tiny company has a chance at providing a user experience people want and prefer.
It's a good question and one that I should better have a good answer for, given that I am staking a significant part of our strategy on our ability to attract users with a superior experience!
Well, here's the answer.
Spoiler alert: if you have a legal question that you need an urgent answer to, use CourtCorrect's legal assessment tool to get free, instant legal help. All answers are curated and CourtCorrect then matches you with a legal service that is ideal for your request and your financial preferences.
What Google Can Do
First of all, it makes sense to review what Google can currently do when it comes to solving legal problems. Let's try a sample query such as: "can my landlord increase my rent even though my tenancy agreement says he can't". Here are the results: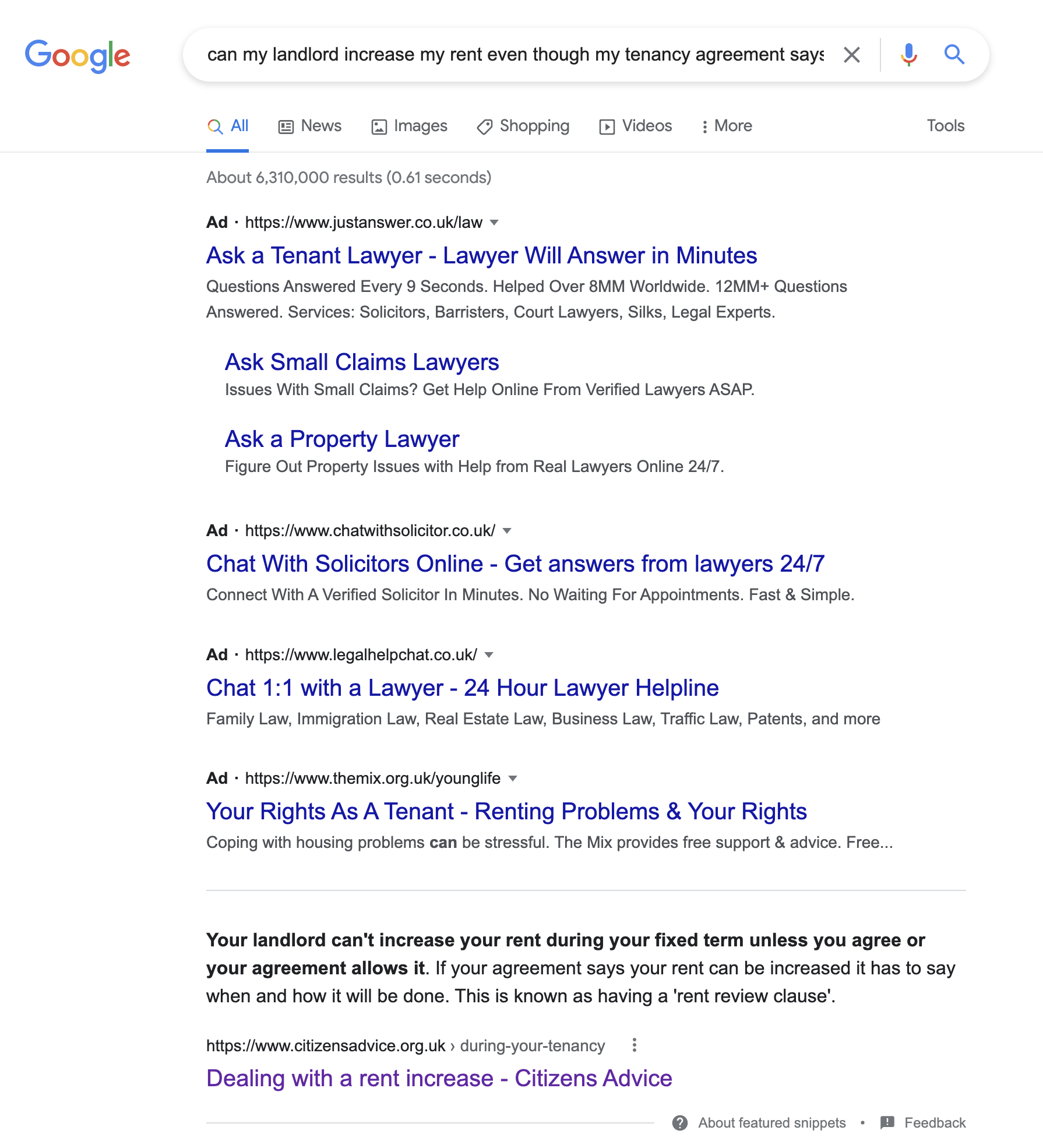 Apart from the large amount of ads, this is a great result. Within 0.61 seconds, we get a one-sentence answer to our question from a reputable source, directly on the search results page. I don't even have to go into the website quoted.
Let's try the same search query — "can my landlord increase my rent even though my tenancy agreement says he can't" — on CourtCorrect (at the time of writing we don't have the AI in a nice UI yet, so sorry for the lack thereof). Here is the top result:
"For a periodic tenancy (rolling on a week-by-week or month-by-month basis) your landlord cannot normally increase the rent more than once a year without your agreement. For a fixed-term tenancy (running for a set period) your landlord can only increase the rent if you agree. If you do not agree, the rent can only be increased when the fixed term ends."
*Source → *GOV.UK
Well. That's not too shabby either! This result also directly answers the question asked and was retrieved in less than a second. You may even argue that CourtCorrect's response is better because it provides scenarios for different types of tenancy agreements and because there aren't any ads. But we wouldn't do that because that would be arrogant and we're definitely not arrogant.
At the time of writing, we spent roughly 3 weeks on building out our search algorithm. Google is already a trillion-dollar company. So you could argue that, while we can't beat Google on question answering and search queries in general, we do have a chance at being at least as good as Google on this task if we focus on a particular domain like law. Let's see where we are in 6 months 😉
Oh — and then there is the fact that we also show similar cases to yours from our database of over 10 million cases — none of which are indexed on Google. In case you didn't know.
What Google Can't Do
But what if you actually need to now do something to fix the problem you just got information on? What if you want to get your landlord to agree to the lower rent that he is legally required to accept?
If you go on Google, your search journey on Google ends with the search results. Of course it does — Google is a search engine. For anything else, you have to rely on the services provided by the search results.
But CourtCorrect is not a search engine — CourtCorrect is an online legal system. This means that you can actually get the follow-on services from CourtCorrect as well. So to improve on the user journey via Google, we need to at least be as good as Google when it comes to finding information (check ✅), and then also compete with the services offered by the search results.
Fortunately, this second step is much easier. Take, for example, our "Write a Letter" feature. This feature allows you to craft a beautiful, persuasive and professional letter setting out your rights and responsibilities in a few minutes.
The services you find on Google don't make it so easy. You'll have to download a template to your computer, fill it out manually and then reattach it to an email or send it by post. They will also not let you specify lots of important details, like whether to include the legal assessment you got from CourtCorrect. They won't let you add branding or a deadline and more. Here's one file I generated and downloaded from a leading Google search result: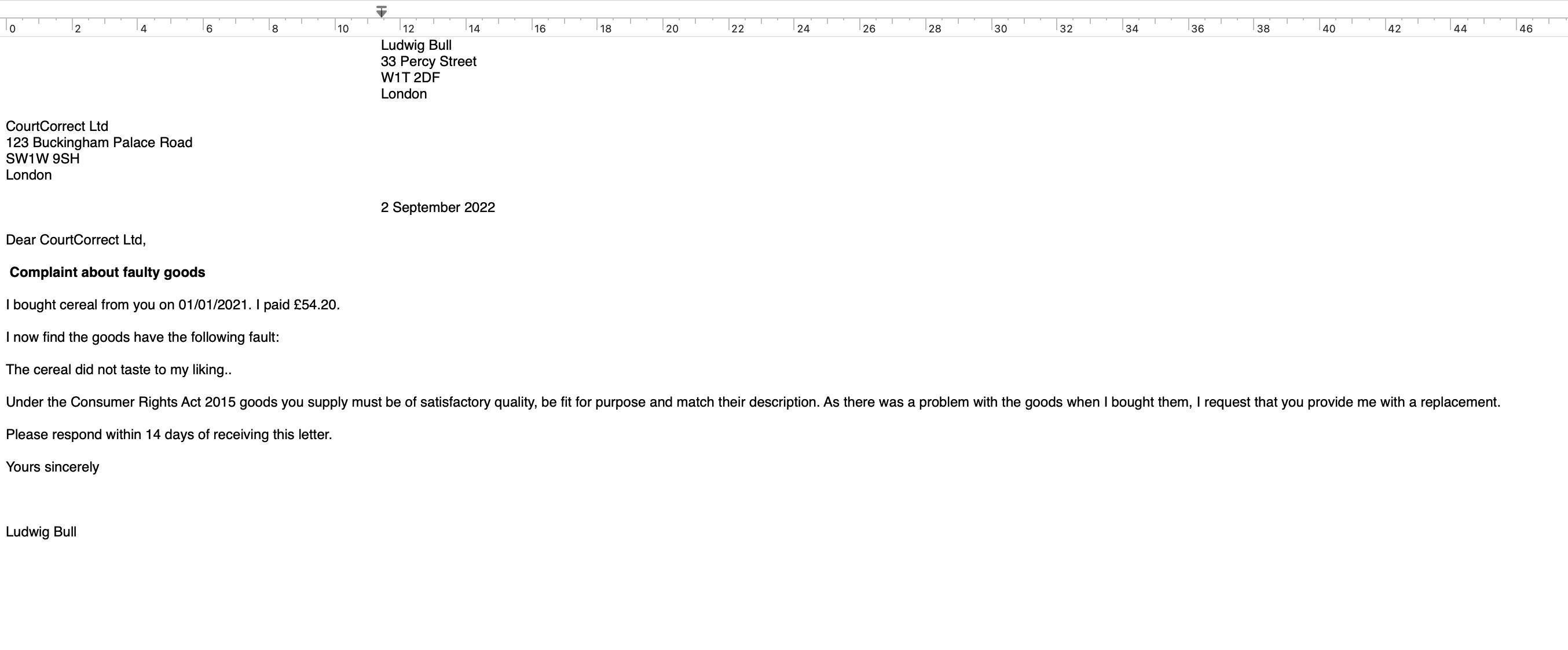 I mean sure, it's not bad! But is it great? Is it the best it can be? Is it better than our letter generation feature? I don't think so, but why don't you see for yourself!
Legal services you find on Google vs legal services on CourtCorrect
There are of course many more things you can do on CourtCorrect. You can find suitable and thoroughly vetted lawyers by specifying details like location and financial preferences (all of which you can't do with Google search results). You can also soon start an automatic settlement process that will hopefully do a lot better than leading Google search results like the Financial Ombudsman Service, ACAS or the Housing Ombudsman: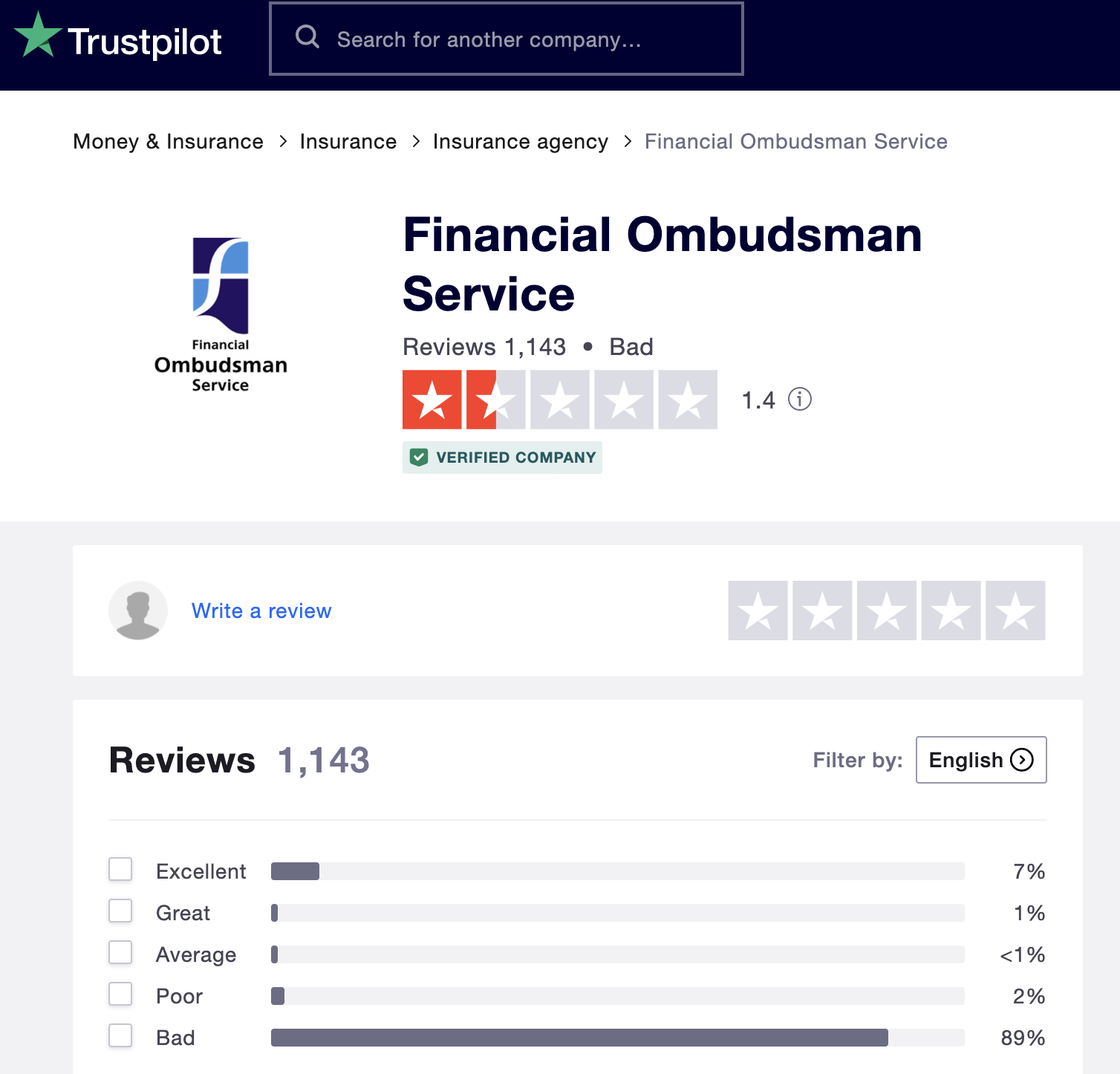 …ouch.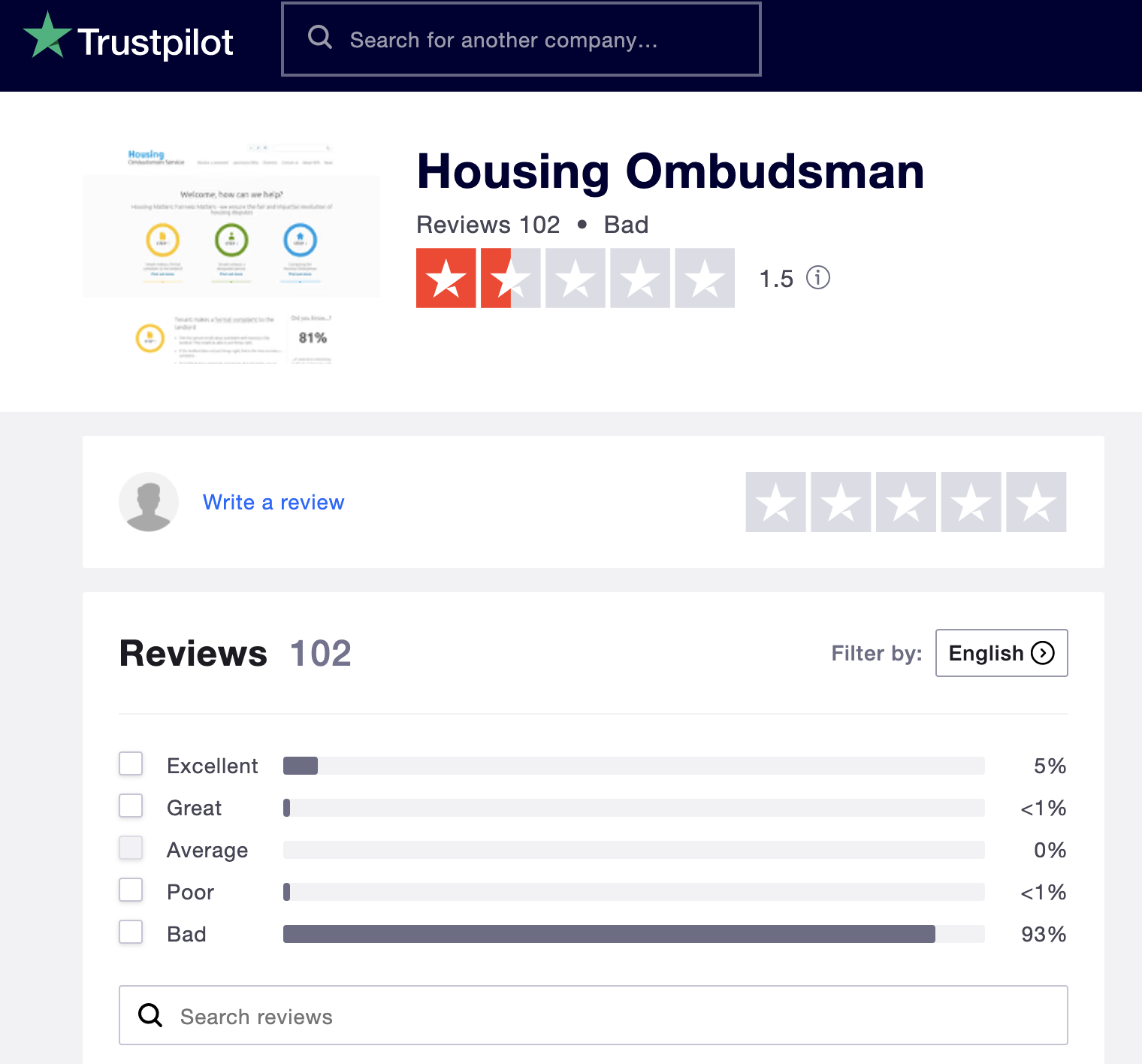 ...that hurts.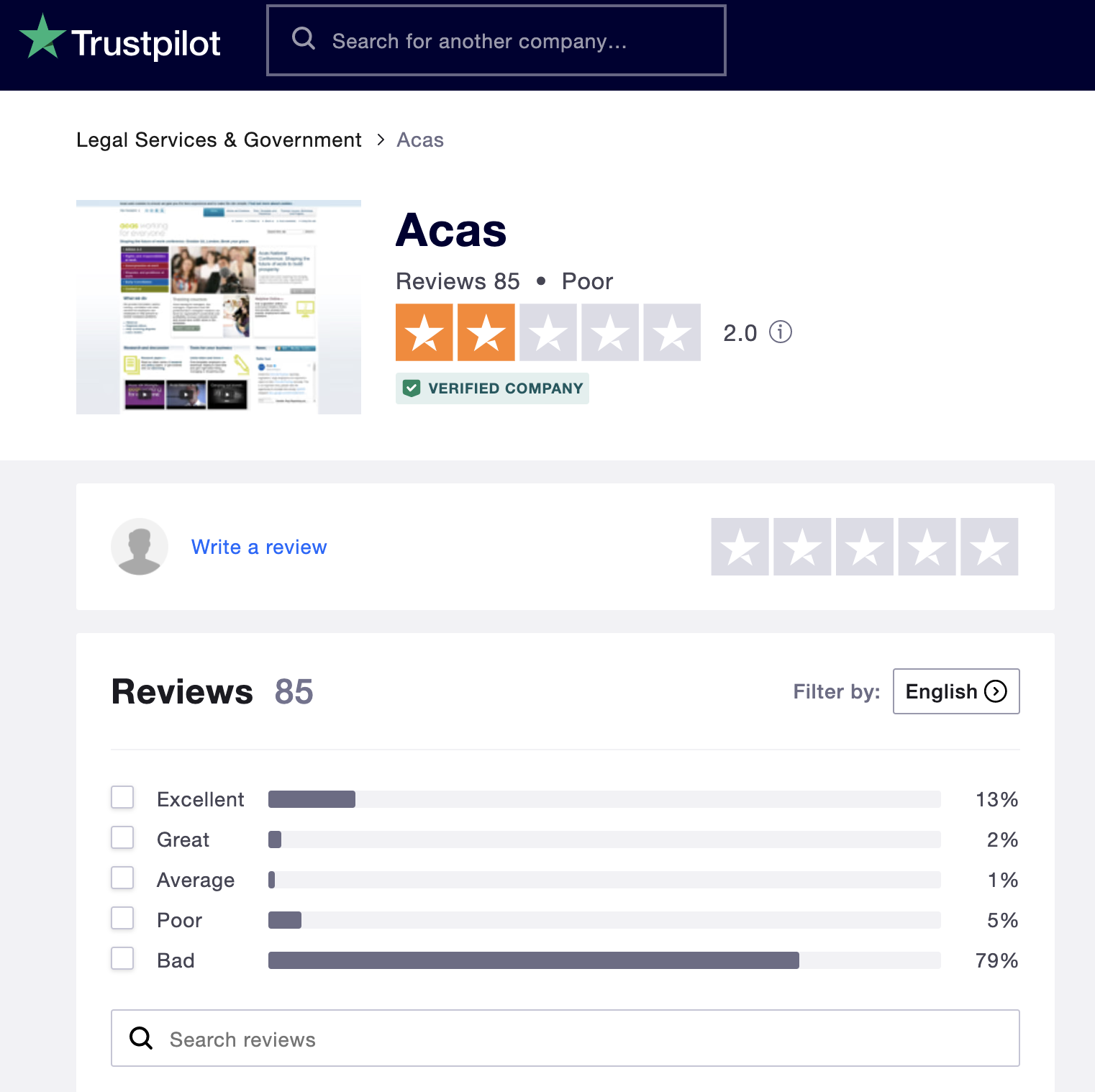 …I mean, do you want us to win?
In addition to actually providing superior services than what you'll find on Google, we have the added benefit that you can record anything you do on the CourtCorrect platform in your own archive of case files. This means that you'll have a permanent record of all of your cases. How neat!
So — can we beat Google?
In order to beat the user journeys that start on Google and end on search results offering services, we need to compete with Google when it comes to information and with the service providers when it comes to services.
Right now, it looks like we are on track to do both. Our continuing relentless focus on helping people access justice and the user journeys they need to get justice will ensure that we succeed.
So, just how big could CourtCorrect become?