CourtCorrect, the London Tech start-up that revolutionised access to justice, is raising awareness for the precarious situation of gig economy workers, such as Deliveroo riders.
While signing up hundreds of riders to help them claim for more rights, they unearthed stories and inside documents that provide an unprecedented look behind the curtain of questionable practices in the industry.
Gig economy workers face tough working conditions
"You are neither an employee of Deliveroo, nor a worker within the meaning of any employment rights legislation", Deliveroo's 2021 rider agreement reads bluntly. In plain English: unlike workers and employees, riders don't enjoy typical protection or rights.
The headlines rarely feature what this technicality means for the riders.
Remus N. is one of them and he told his story to CourtCorrect. The Romanian has been trying to make a living as a delivery driver in the UK for about three years.
His account is unsettling. Often, he would work for 12 hours but barely make more than £100 on good days – just above minimum wage. On top of it, he would be facing the costs that the gig economy relies on but doesn't pay for. Insurance; car reparations; tickets and fines – none of it is covered. Social security or paid holidays are not part of the job description.
Mr N. ended up having his account – and his only source of income – cancelled when his scooter broke down and he couldn't deliver an order. All pleading with the support team didn't help – Mr N. was cut off from his livelihood.
Deliveroo claims riders don't have employment rights
However, among many disconcerting clauses in a typical 'Supplier Agreement' retrieved by CourtCorrect is one that does not permit drivers to legally contend their status: "You … warrant that neither you nor anyone acting on your behalf will present any claim in ... any civil court in which it is contended that you are either an employee or a worker."
"The Supreme Court recently ruled that Uber drivers are entitled to worker protections and are not self-employed; the judgment applies analogously across the gig economy," says Ludwig Bull, CourtCorrect's CEO.
He deploys the gimmicky tech from his Cambridge student start-ups (BBC, 1 November 2017) to take on a legal system that is not serving everyone equally. "Gig economy workers like Deliveroo riders are uniquely vulnerable because they don't have access to justice while engaging in complex legal arrangements."
Helping gig economy workers get access to justice
They are a classic case of a marginalised group that CourtCorrect helps to access their rights through collective bargaining, dispute resolution and litigation. Their portfolio also includes UberEats, Stuart and suppliers selling to companies like DPD.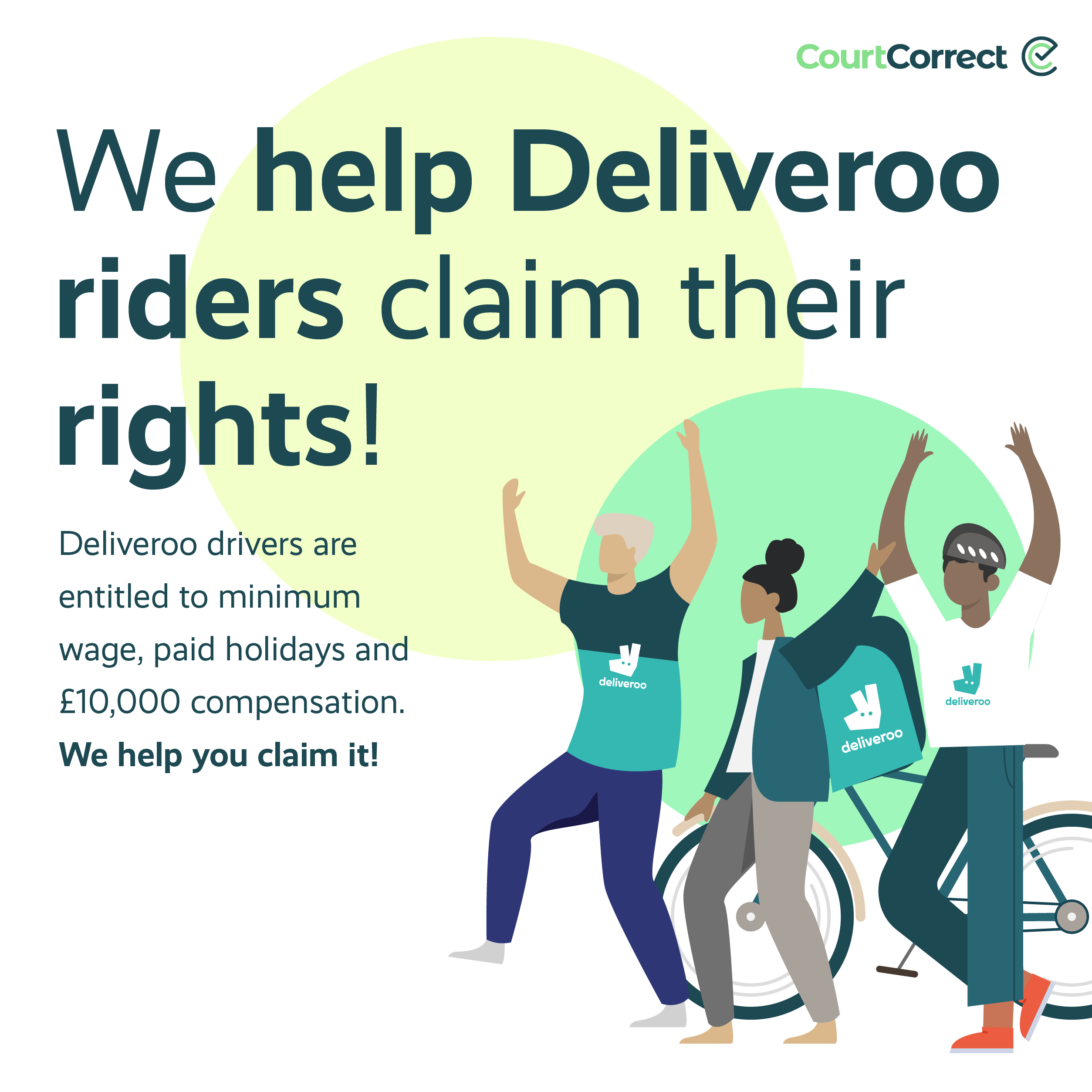 "Gig economy workers have kept our society going, delivering food to those self-isolating during the pandemic at great personal risk", Mr Bull says. "We owe them."
"The future of Deliveroo and similar companies will remain uncertain until those problems are addressed," Mr Bull says. "We want to show them that a mutually beneficial solution is sustainable."